Outdoor space is probably among your home's favorite places to relax. You have spent years cultivating it into the perfect retreat, complete with lush greenery and a beautiful patio. Not to mention a few carefully placed fire pits to create the ideal atmosphere.
A fire pit is a perfect centerpiece for an outdoor area. However, like any other fixtures in your home, your fire pit will eventually need a little freshening up. Giving this unique feature a makeover can be straightforward and incredibly rewarding. Here are some trendy ideas on how to spruce up your fire pit this 2022: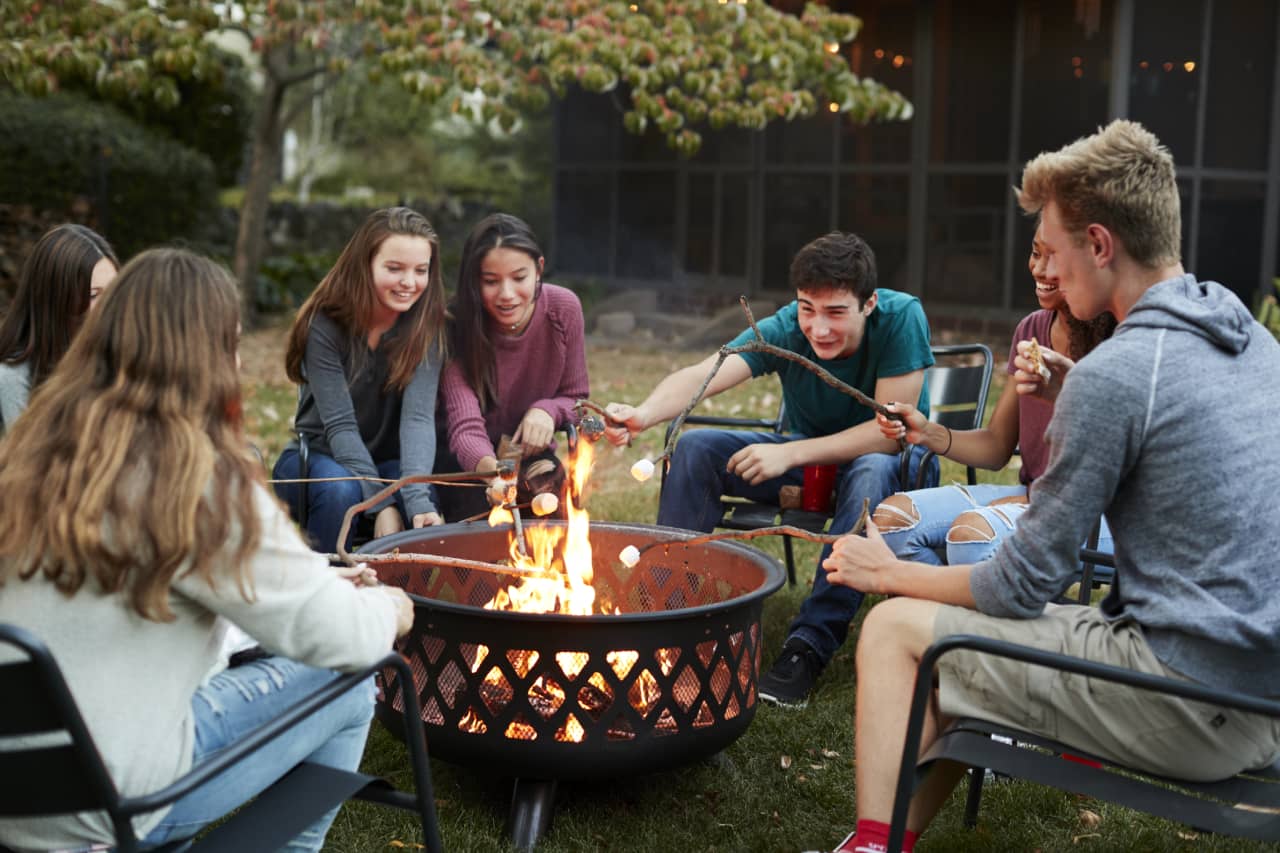 1. Build A New One
If you're thinking of a significant change, then you can build an entirely new fire pit. There are various fire pit structures that you can choose from. Whether you go for a sleek and stylish circular fire pit, a freestanding style, or something modernistic, your options are endless.
The best thing about building a new fire pit is the customization possibilities. A personalised fire pit allows you to create any design that suits your taste and preference. You can choose what construction material works best for you. It can either be brick, concrete, granite, or copper structure.
Additionally, this feature will stand out more prominently in your yard; hence, helping it become the new focal point. Just make sure you select the right fire pit according to your backyard size.
It's best to create a cohesive outdoor space while staying in style. Therefore, the new fire pit should match the rest of your outdoor fixtures. After all, that's what a modern approach is all about–creating a stylish look by simply adding the right pieces together.
2. Add A New Layer Of Gravel
Replacing the old layer of gravel around your fire pit can make a huge difference. This approach is a quick and easy update for your outdoor fixture. You can opt for the same gravel type or choose a different color.
You can place some decorative stones or pebbles around the border to add a new visual element and highlight the area. Ensure not to use large gravel or rock and instead stick with at least two inches of pea gravel or stones. Doing so will create a pleasant and more balanced look.
You may also use these colorful stones as a pathway. Install them from your garden entryway and curve right toward your fire pit. Likewise, the stones can lead to additional seating areas or your patio. This approach creates a backyard oasis that feels natural and very homey.
With that said, not only does this upgrade look sophisticated, but it will also add a soft cushioning effect. After all, it's one of the main selling points of choosing gravel. It provides a comfortable area for your feet, making it the perfect surface around the fire pit.
3. Paint Your Fire Pit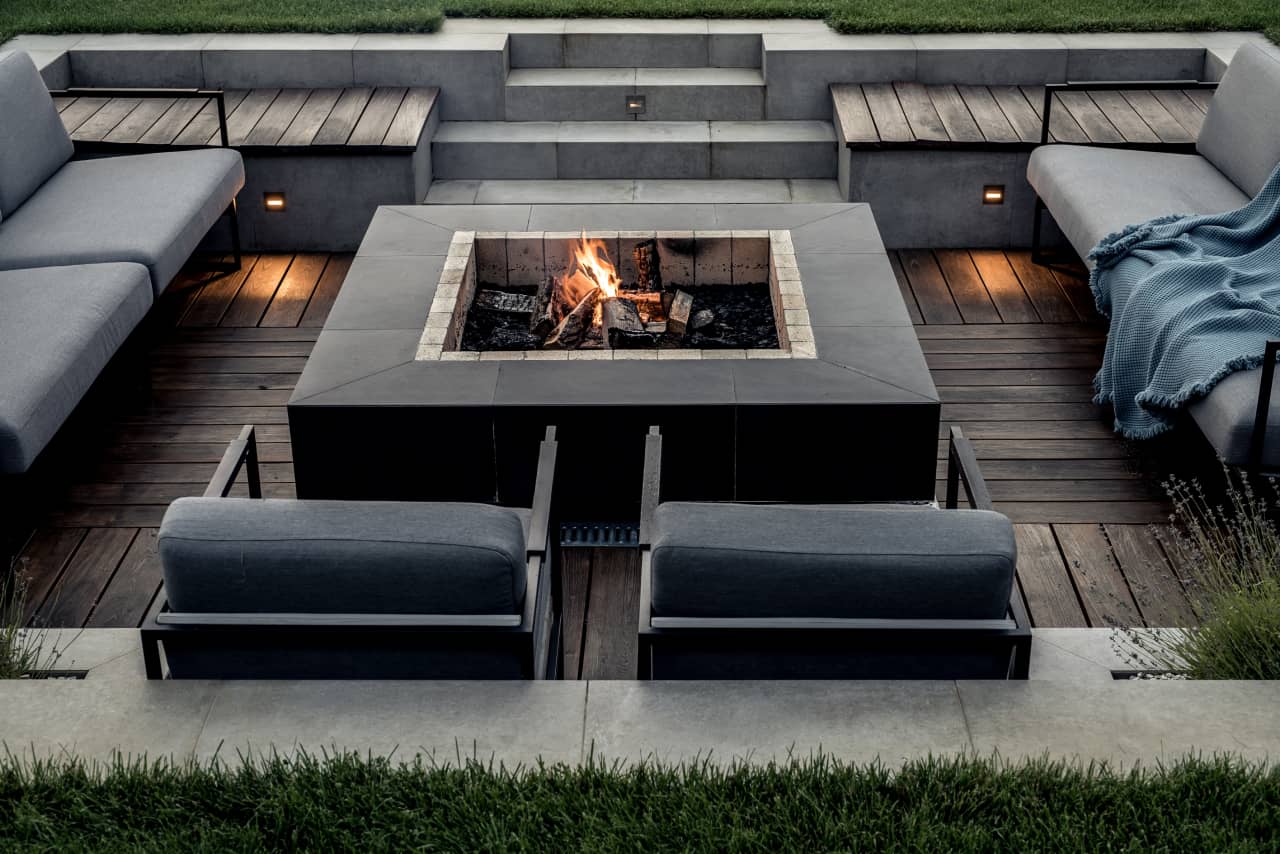 Painting your fire pit is a bold move, but you'll surely love the result. This method will create a new sense and atmosphere around it. It can also change its appearance drastically.
If paint can change the entire color palette of your backyard space, so does your fire pit. You can either paint the whole fire pit in one color or choose to paint it in multiple shades. You can apply countless color combinations to create a unique and catchy look.
Whatever way you decide, make sure that the paint is also weather and high heat-resistant, at approximately 1,200°F. This way, you can be confident that the paint won't bubble up or peel off when getting scorched. After all, a fire pit is designed to withstand heat, so the color paint should be, too.
4. Take Advantage Of Fire Pit Accessories
Fire pits are often incomplete without their own set of accessories. This extra addition includes a fire pit table, grilling plate, etc. These fixtures will not only add more visual appeal to your outdoor area but also allow you to enjoy a fire pit in more creative ways.
For instance, a fire pit table offers the perfect balance of outdoor dining and a fire pit. It's a must-have item for everyone who loves to host a party in their backyard. A grilling plate is best for your small outdoor BBQ party.
This concept is a fantastic way to improve the overall purpose of your fire pit. You can turn your fire pit into a dining area, a grilling station, or simply an extra space to distress. In short, this feature doesn't have to be limited to just one function.
Because a fire pit is one of the most versatile outdoor structures, it can instantly give your home a subtle and sophisticated touch. The best thing about having a fire pit is that it will transform the entire backyard instantly into an entertaining, creative, and relaxing area.
5. Consider Lighting Fixtures
You may already have a beautiful fire pit in your backyard, but additional lighting fixtures will spotlight the entire feature more. Illumination is one of the most underrated ways to make your outdoor landscape more sophisticated. Such outdoor lighting ideas could be fire glass, string lights, and more.
How does it spruce up your fire pit? Well, lighting accessories are an excellent way to accentuate this unique structure. It's a perfect combination to have a romantic fire pit on display while also having the option to add more lighting. This idea will ensure that your fire pit area is always looking its best at any time of the day.
All things considered, adding lighting fixtures to your fire pit area can help you use this space even after the sun goes down. It's one of the best ways to create a cozy and welcoming atmosphere on a cold evening. It doesn't only set the mood for a romantic gathering but also helps highlight the design features of your backyard area.
Conclusion
The tips highlighted here can help maintain a functional and up-to-date fire pit for years. Brighten it up with new designs, accessories, and lighting to bring your outdoor space to the next level.
Don't be afraid to experiment with different styles and concepts. It's a quick way to refresh the entire look without starting from scratch. This approach is one significant investment and worth every penny in the long run.