Best Electric Pressure Washer: If you ever tried washing the greasy surfaces with a regular hose, or just trying to remove all the dirt from the car mats and your car, you know how tricky and time consuming it can get.
Luckily, we have decided to grab some of the most popular units in this class, and give them a test run. We wanted to see what's the fuss all about, and if the most powerful electric pressure washers are worth our time, and, we were pleasantly surprised.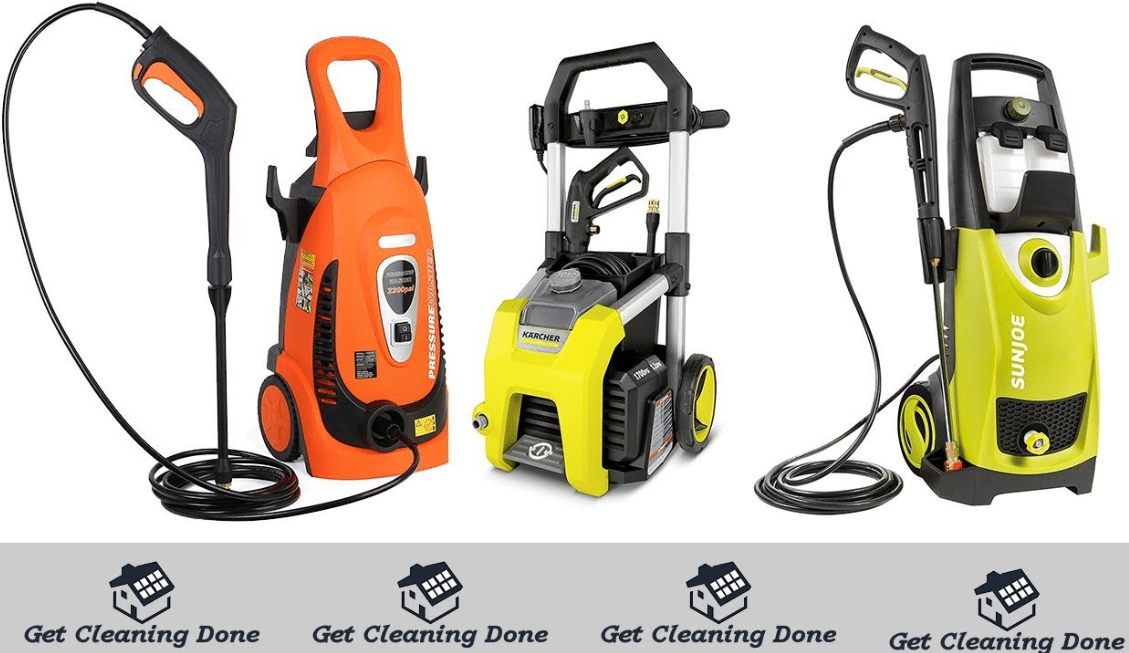 Pressure washers seem simple on paper, but there's a lot of features and design differences that can completely change how they work, what they can do, or how they're meant to be used. It might seem tempting to buy whichever model or band you come across first, but you should understand what you're buying if you want to make sure that it's the right product for you – not every electric pressure washer will work perfectly for every purpose, especially if you need it for delicate or niche jobs.
Gas vs Electric Pressure Washer
Gas models have one huge advantage in pressure washer reviews: They clean faster, due to much higher pressure and flow rates. They can handle any job a homeowner can throw at them, including heavy concrete cleaning.
Read Also: 5 Tips to start your own lawn care business
Electric models have all the other advantages. They're much smaller and half the weight of a gas machine but check out electric pressure washer reviews to find the best electric power washer. They start up as soon as you squeeze the trigger and shut down as soon as you let go. So you won't have any gas hassles or starting issues, and you'll never have to worry about pump damage from extended idling. And since there's no exhaust, you can use them indoors.
Best Electric Pressure Washer 2018
XtremepowerUS 3000 PSI 2000W Electric Pressure Washer
This pressure washer offers 2000 watts of electric high-pressure burst thanks to a 120v / 60Hz VAC GFCI. It has a max water flow rate of 1.6 GPM. It weighs only 20 pounds to ensure it is easily movable from one area to the next, regardless of what you want to clean. You can adjust the spray amount by using the spray wand. The smaller the fan, the more pressure it will provide you with. Although it is advertised as 3000 PSI, the working PSI is 1885-2000 but can have short bursts up to 3000 PSI.
ARKSEN 3000 PSI Burst Power Electric High-Pressure Washer
This pressure washer includes everything you need to get the job done and it offers enough pressure to get it done quickly up to 3,000 PSI, but operates normally at 2200 PSI. It has a built-in soap dispenser and five spray nozzles. They use only 1.7 GPM and can wash virtually all surfaces from your vehicle to your wooden deck and even oil-stained driveways. It has a pistol style trigger on its long spray wand.
Best Electric Pressure Washer 2019
It was interesting to hear from a professional in this industry that pressure washing is not a fix for every kind of stain. Brett told us, "Our idea is if you can clean it with garden hose pressure, then use that. Clean it with the lowest pressure possible to not ruin the surface. If we feel like it's not going to get clean, we raise the water pressure. If we think it's going to damage the surface then we don't do it."
SUN JOE SPX3000 ELECTRIC PRESSURE WASHER
Very, first let me know you one thing, that if you are looking for a real best electric pressure washer. Then, Sun Joe SPX3000 is one of the most trusted names that have a higher rating on Amazon.com, and also it has around 5K very positive customer reviews.
IVATION ELECTRIC PRESSURE WASHER
The Ivation Electric Pressure Washer has a powerful 1800 Watt/14.5 amp Motor and Whopping 1.8 GPM and 2,200 PSI Pressure for Maximum Cleaning and Scrubbing Power. It's a powerful 1800 Watt/14.5 amp Motor that can generate the Incredible Cleaning Power, to mabestke your vehicle clean and shiny with a single wash.
AR BLUE CLEAN AR390SS 2000 PSI
With this best electric pressure washer, you will get the professional-style pressure washer gun and pressure washer wand as well as the 30-foot high-pressure hose, 48 oz. detergent tank and 4 different Quick Connect pressure washer nozzles.
Best Electric Pressure Washer For Cars
Karcher K5 Premium Electric Pressure Washer
2,000 PSI of water pressure
32 LBS in weight
2 years limited warranty
14.5 amp/1800 watt motor
Water-cooled motor
Includes two wands and pressurized hose reel
Onboard detergent tank
AR Blue Clean AR383 Pressure Washer
1,900 PSI of water pressure
27 LBS in gross weight
1 years warranty
30 feet power cord
14.5 amp/1800 watt motor
CSA approved
GreenWorks GPW1501 Pressure Washer
1,500 PSI of water pressure
17.5 LBS in gross weight
1-year warranty
35 feet power cord
13 amp universal motor
Best Rated Electric Pressure Washer
Sun Joe SPX3000 Electric Pressure Washer(4.2)
PowRyte Elite 3000 PSI Electric Pressure Washer (4.9)
Buy Sun Joe SPX200E Electric Pressure Washer (4.1)
Greenworks GPW1951 Pressure Washer (3.7)
Flagup 3000 PSI Electric Pressure Washer (4.8)
What Is The Best Electric Power Washer For Home Use?
Best Overall, Electric: Sun Joe SPX3000 Electric Pressure Washer at Amazon.
Best Overall, Gas: Ryobi RY802800 Gas Pressure Washer at Home Depot.
Runner Up, Best Overall, Electric: Karcher K5 Electric Pressure Washer at Amazon.
Best Budget: Greenworks GPW1501 Electric Pressure Washer at Amazon.
Are Electric Pressure Washers Any Good?
Basically, a higher PSI rating means that the machine can produce more powerful jets of water. Electric pressure washers usually have engines that produce between 800 and 1,800 PSI. This is great for everyday, outdoor cleaning.
Is 2000 Psi Pressure Washer Good?
A pressure washer rated with a higher PSI and GPM will clean better and faster but often costs more than lower-rated units. Medium-Duty: Generally gas-powered, these medium-duty pressure washers generate between 2000 and 2800 PSI at 2 to 3 GPM.
Which Is The Best Pressure Washer To Buy?
Karcher K7 PREMIUM FULL CONTROL PLUS HOME. The best pressure washer on the test – if you're willing to pay.
KÄRCHER K4 FULL CONTROL HOME PRESSURE WASHER. Best all-round washer for discerning folk.
MUC-OFF PRESSURE WASHER.
STIHL RE 98.
Bosch AQT 45-14 X.
Karcher K2.
Nilfisk D-PG 140.4-9 Xtra 140.