Moving is a hectic process that most people would rather not deal with. However, it's unavoidable if you're planning to relocate to a different place or if you just bought a new house.
Like most tasks that you might find difficult, moving can be made more manageable if you break it down to several steps instead of considering it one big task. Not only will this be simpler and less stressful, but it also allows you to be more thorough and to put more focus into the smaller tasks involved.
Here is a moving checklist with six essentials steps you need to do to make your move a walk in the park.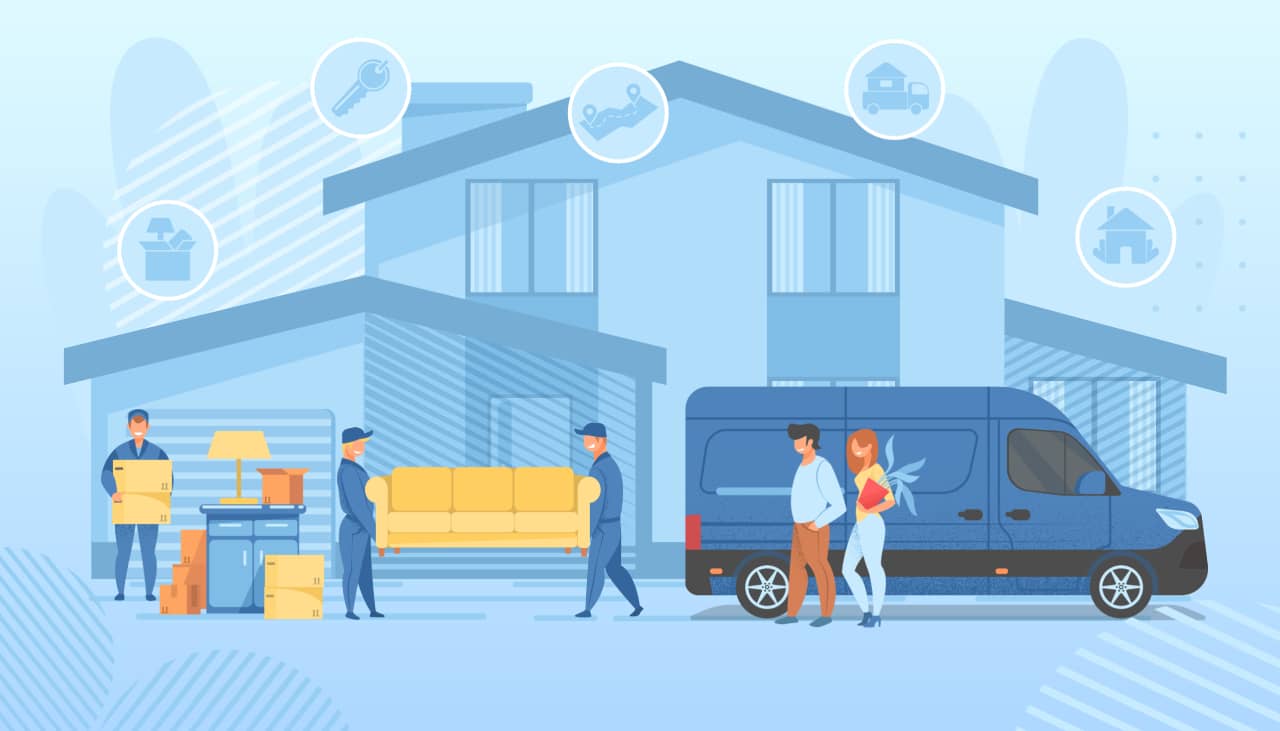 Step 1: Strategize
When you decide to move, planning rather than packing should be the first thing you do. With a clear plan, you can ensure that everything you need to do gets taken care of. And, since you have a lot of ground to cover, you should start planning around eight to ten weeks before moving day.
Create A Budget
Moving isn't cheap, and there are a number of expenses involved if you'd like to make a successful move. This includes travel expenses, insurance costs, and moving company expenses if you're planning on hiring movers.
You need to take the time to assess all these costs so you can see how much of your finances you should allot to your move. The earlier you do this, the better, as you still have time to look for cheaper alternatives to some of these costs. If you're moving from California, for example, you could get a quote from different moving companies to see which one is the more affordable option for you.
Pick A Moving Day
You also want to pick a moving day in advance so you can structure your plan and budget better. If you're on a tight budget, the best time to move would be on a weekday, during morning hours. It would also be cheaper to move during off-season months, typically between late September and April. However, if you decide to move during these months, you should be extra vigilant of unfavorable weather.
In addition, you want to move on a convenient date when you're free of all obligations and when the circumstances permit, such as after the expiry of your lease or upon starting a new job.
Make An Inventory
You should create an inventory of everything you own before you even think of packing. But first, walk through all the rooms of your house so you can identify which items to dispose of and which ones to take with you to your new home. Afterward, create an exhaustive list of the things you plan to take, including unique features, types and numbers, designated room, and approximate value.
A moving inventory can help you keep track of your valuables. It can also help you better identify your needs for the move, such as the number of specialty movers or whether you need to get any additional services.
Decide Whether To Hire A Moving Company
Early on, you should decide whether you want to move by yourself or hire a moving company. The latter is a good choice if you're financially capable; it's less tedious for you because the moving experts will do all the heavy lifting. But if you're on a budget, the DIY (do-it-yourself) option would be ideal, as it saves you a lot on costs. This is a great alternative if you have a lot of time to plan and a team of reliable friends or family willing to help.
Another alternative is to combine the two options. You can rent the moving truck, and your family and friends can help load it and unload items into your new home. This way, you won't have to spend money on hiring movers.
Organize A Moving Folder For All Your Paperwork
It's important to ensure that all your documents are safe when preparing to move to a new home. This includes quotes, receipts, and other housing documents. To do this, you should have a specific folder in which you can store all these items.
Assemble Moving Supplies
When you pack your valuables, you'll need moving supplies such as markers, bubble wrap, and packing tape to secure and label your boxes. In addition to this, you should also have specialty items such as wardrobe boxes, mattress covers, and dish barrels.
Step 2: Start Packing
Three to six weeks before you move into your home, you should start packing your possessions. As it's still quite early, you want to start small and do this systematically, ideally beginning with the least-used room.
Get A Moving Essentials Bag
Thinking ahead to when you finally move in, you need to know where all your essentials are to save yourself the hassle of going through different boxes. You'll most likely be fatigued after moving and won't have much energy left, so it would be helpful to have all your essentials in one bag that you can easily unpack. Some of the items to place in your moving essentials bag include the following:
Kettle
Medicine
Bedding
Snacks
Toilet paper
Phone charger
Cups, plates, and other utensils
Towels
It would also be best to have a specific suitcase where you can store the clothing you'll be using days before your move, so you don't have to unpack your wardrobe every time.
Observe Packing Tips
To make packing easier, here are some valuable tips to keep in mind:
Use strong cardboard boxes that can carry your valuables without danger of tearing. This helps prevent your possessions from being destroyed, and it saves you the effort of having to carry the boxes gingerly to ensure that the bottom doesn't give out.
Wrap your furniture with stretch wraps to safeguard it from possible damage and from scratches and scuffs.
Use boxes of the right size. For example, light items such as pillows and linen should be stored in bigger boxes, while bulky things should be placed in small boxes.
Don't mix items from different rooms in one box.
Make sure to fill the boxes completely to make unpacking easier and faster.
Take pictures of your electronics before disconnecting them so you have a reference for how they should be reassembled.
Tape your boxes well to ensure that the valuables inside are well-protected.
Step 3: Announce Your Change Of Address
The last thing you want is for your mail orders and magazine subscriptions to be sent to your old address instead of your new home. Aside from services you're subscribed to and family and friends, other parties you need to inform about your change of address include the following:
Government agencies: The voter registration office, postal service, Internal Revenue Service (IRS), Department of Motor Vehicles (DMV), and Social Security Administration.
Utility companies: Firms that handle your gas, water, cable, internet, and electricity.
Health facilities: Your pharmacy, dentist, doctor, and veterinarian. This is important, as these facilities will have to transfer your prescription and medical records.
Step 4: Final Preparations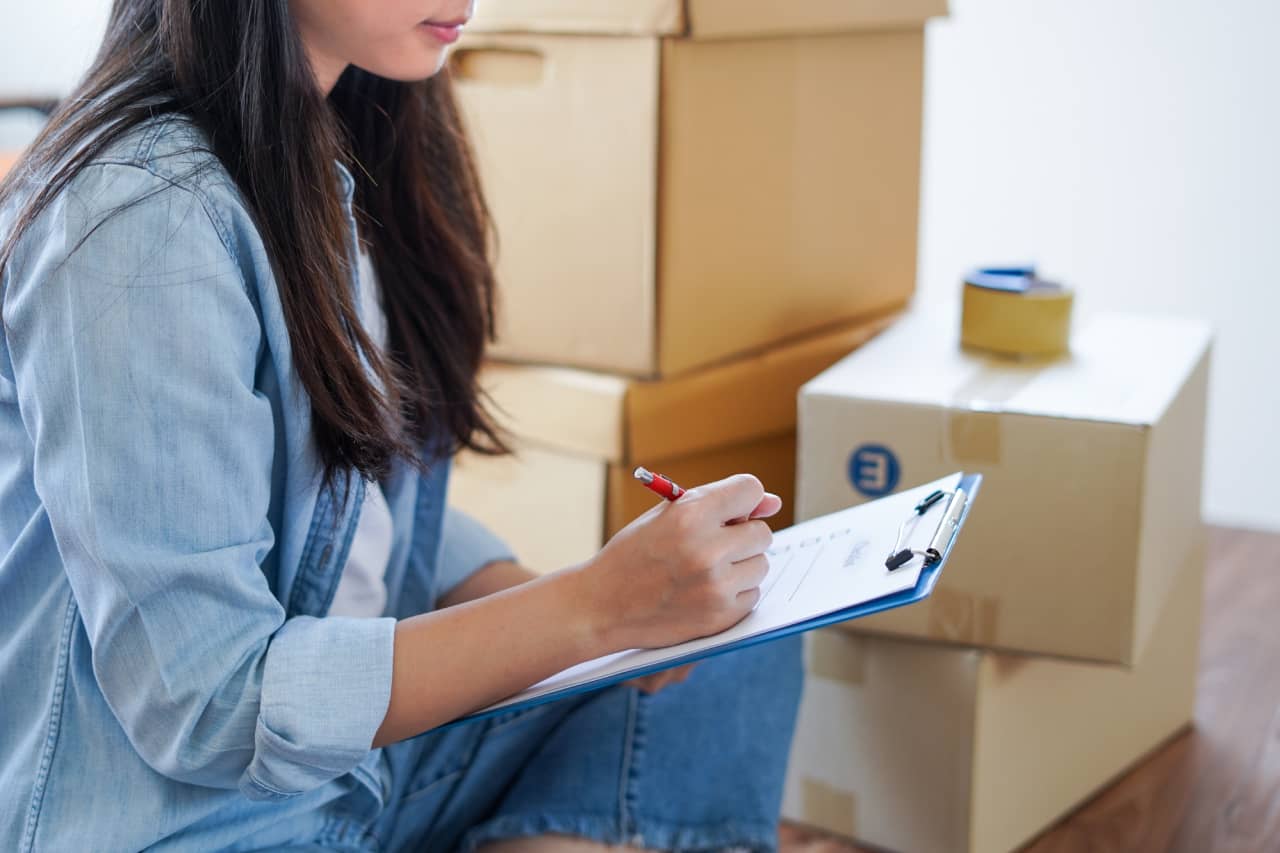 Ideally, this step happens about two weeks before your moving day. You're far into your moving checklist at this point, but there's still a lot that needs to be finalized.
Clean Your Draperies and Rugs
You don't want to move into your new home with your rugs and draperies still carrying dirt from your old one. Take your time to have them cleaned extensively and folded properly. Afterward, it would be best not to unpack and use these until you've moved into your new home.
Arrange To Be Off Work The Day You Plan To Move
Moving is a hectic process that usually takes up a whole day. If you're planning on moving on a weekday, you need to inform your boss or your human resource department. It's best to do this well in advance to prevent any inconvenience that might arise and prevent your request from being granted.
Clean Your Home
Before you move into a new home, you should have the decency not to leave your current house messy and untidy. Instead, take the time to clean your home extensively—washing the floors, vacuuming the carpet, and removing all the trash.
Prepare Your Equipment
Machines that contain gas need extra care when being moved from one house to another. This includes generators, chainsaws, lawnmowers, and other small-engine equipment. In moving them, you should make sure to prevent the free movement of the gas in these machines, which may cause issues in the carburetor. If a problem occurs, you should take the equipment to a mechanic to resolve it.
Reserve A Storage Unit
You may want to consider renting a storage unit if there's a need for additional storage during, before, or after relocating to your new home.
Make Home Improvements
Make sure to examine all the rooms of your home for possible damage, such as nail holes and scrapes. These things shouldn't be hard to fix or clean up. You may also want to do little tasks that can contribute to sprucing the place up, such as cleaning and shining the doorknobs; polishing wooden floors, railings, and countertops; and color-matching paint.
Settle Invoices
You should make sure to settle all your invoices before moving out of your current home, despite how tedious this might be. After all, you don't want to be in a situation where you're simultaneously unpacking boxes and clearing invoices.
Step 5: Move
After all your preparation, D-day has arrived. To avoid any hiccups during this day, here are a couple of things you need to do.
Do One Last Sweep Of Your Home
Because humans are prone to error, it won't hurt to do one final sweep of your home to check whether you've missed anything. After confirming that everything has been packed, you can then proceed to close the windows and switch off the air conditioner, water, and lights.
Welcome And Guide The Movers
With all your possessions properly packed and in place, you can now welcome the team of moving experts who will help you relocate to your new home. If you have your family and friends helping you out with the move, you should welcome them as well.
Take the movers and other people helping out through the different parts of your home and show them to the boxes they need to carry. As you do this, you should point out the specific boxes that are heavy or that contain delicate items, so they can be cautious when carrying them.
Unpack Your Moving Essentials Bag And Relax
You don't have to unpack your boxes immediately after everything's been moved into your new home. The only important thing to unpack is your moving essentials bag. Take out the bathroom essentials, such as toilet paper and soap, and spread the sheets on your bed. After a long and busy day of moving, you should get some rest.
Step 6: Settle In
The next week or two after moving into your new home will be spent settling in, and this is the final step in the moving checklist.
Unpack Everything
Make sure all your items are out of their boxes and in their respective places in your new home. Try not to drag out the unpacking process; aim to have it all done within two weeks.
Recycle Packing Materials
There will always be someone who's moving from one home to another or who's in need of boxes for storage. Instead of throwing your packing materials away, you should consider donating the boxes to a local moving company or to any platform that accepts such donations.
Find A Reliable Plumber, Electrician, And Mechanic
This is something you should do as soon as possible. Though your home may be new, there's no telling what emergencies or incidents could occur at unexpected times. In case of these events, it would be best to have reliable experts you can call right away.
Takeaway
It's easy to be overwhelmed when moving to a new home, as this task is quite hectic and stressful. However, this doesn't always have to be the case. By breaking the whole thing down into a series of steps, you can simplify the process and make it more manageable. With the checklist above, you can be well-prepared and move into your new home without breaking a sweat.