Huge kitchen spaces come with the luxury to design your dream kitchen as you please, but they need careful execution of design elements to avoid making them feel stuffy and overdone! Your kitchen brings together a lot of activities from cooking and cleaning to socialising, and if you have enough room for it, why not make the best use of the space. From choosing the layout to the perfect island suited for your space, you have a lot of planning coming your way, but no worries!
Here's a few things you can incorporate in your design to make the best use of your huge kitchen space: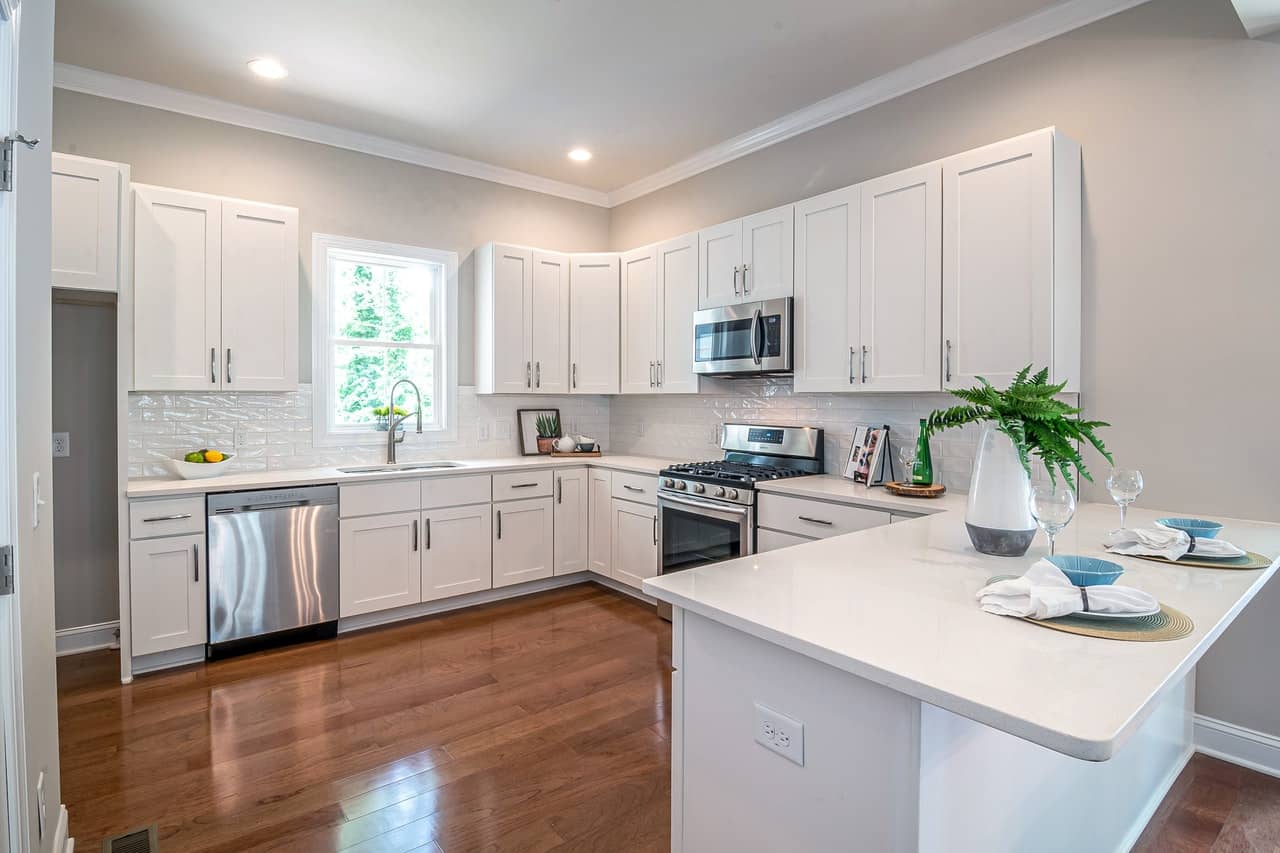 1. Create a U-shaped Layout
If you want the most functionally sound kitchen, a U-shaped kitchen layout is the way to go for you! This layout is perfect for the work triangle as it creates a symmetry with its three walled design. An important advantage of creating a u-shaped kitchen design is that you get a lot of counter space and extra storage.
Even though having a huge kitchen comes with the luxury of extra space already, the layout of your kitchen can really affect how much space you can utilise for storage and workstations. With at least 8 feet between the opposing countertops, you have plenty of space to add an Island or a dining table to your kitchen as you please!
2. Add an Island
Kitchen Islands add a touch of luxury and more functionality to the space. With enough space to spare for it, you can add many different kinds of islands to your kitchen to make a statement! For example a double seated Island with a breakfast bar and sink incorporated can double the amount of seating, and will make it a more sociable place!
You can add a wine cooler built-in to the kitchen island and display some luxury and style with it. These small details help add a layer of depth and style to the kitchen and add more personality to the space!
3. Open Wall Shelves
Well placed shelves in the kitchen not only add more personality to it, but give you some extra functionality as well and are used in every common kitchen. You can use them to display some decoration pieces or flaunt some of that expensive crockery, either way, they can really up the design of the space. Another use of open shelves is by using them as a coffee bar.
You can use a couple of shelves in a corner to keep some coffee essentials and place a couch next to them to create a comfortable and fun coffee bar.
There are many uses of open shelves. From extra storage to displaying artwork, opening shelves in the kitchen is never a bad investment!
4. Add a Workstation
If you have enough space, why not make the best use of it and add a workstation to the place to make it more sociable. It can be used by kids to study or play, or by anyone else to get some work done while spending time with the family. You can place a small table with 1-2 chairs close to an electrical outlet to set up a workstation for your family and spend some extra quality time with them.
Workstations can be made using couches, dining tables, expandable tables ( if you want to keep some space free to move around) or a kitchen island with a breakfast bar fitted with a sink and stove for multi-tasking while keeping company to your guests and family!
5. Windows and Plants
Having a large space and utilizing it well are entirely two different things. You wouldn't want to be left with a stuffy and dark kitchen even with having enough space to make it more airy and breathable. Make sure you have enough windows in the room to let some natural light and fresh air in, and make your kitchen look bright and spacious! You can add some indoor plants by the windows to incorporate some healthy greens to the space and make your kitchen fun and healthy! You can also display some plants from open shelves in the kitchen to make it look refreshing and healthy to work in. But in order to avoid damaging the plants, make sure you choose plants that are low maintenance and require minimal care!
6. Walk-In Pantry
A large and luxurious kitchen is incomplete without a walk-in pantry! If you're going for a minimalist seamless look for your kitchen and don't want it to be full of wall cabinets, a walk-in pantry is the perfect choice for you. It also leaves more space to display artwork, and make your kitchen look more relaxing and inviting. You can install cabinets and drawers inside the pantry to keep the food out of sight and avoid a messy look, but if you're more of a 'grab and go' person while cooking, opening shelves in the pantry is also a great option. Paired with frosted glass sliding doors, your pantry will make an elegant edition to your kitchen.
7. Double of Everything
When you have a large kitchen to work with, having a double of everything is always a good idea. Double kitchen sinks, stoves, fridges etc can make working in a large kitchen extremely convenient and easy. For example, if you have two major work zones in the kitchen, you can place a fridge, a microwave oven and a sink at both the workstations. This minimizes moving around too much and saves time and energy! Having double cooktops is a great option for seasonal entertainers and large families because it allows you to multi-task and save time on cooking meals!
Many homeowners forget that designing a huge kitchen space requires careful planning and execution in order to take maximum advantage of your space. Selecting a layout carefully is the basis for the design and adding carefully curated design elements will tie the whole look together. We hope our tips will help you kickstart the journey to your dream kitchen!