DIY Kitchen Island With Seating Plan & Cost
DIY Kitchen Island: These free kitchen island plans will help you build a fabulous kitchen island that will become the focal point of the room. Not only will this add some pizzazz, but the extra countertop and storage space are just some of the many benefits of having a kitchen island.
Kitchen islands can be a godsend or a regret; if they're placed and appointed well, they offer us invaluable workspace. If placed and outfitted poorly, we end up dancing around them to get to the important, useful parts of the kitchen, often bruising hips in the process! If you already have an island that you don't love or are thinking about installing an island, we've got a collection of DIY kitchen island ideas to help you choose the best one for your use.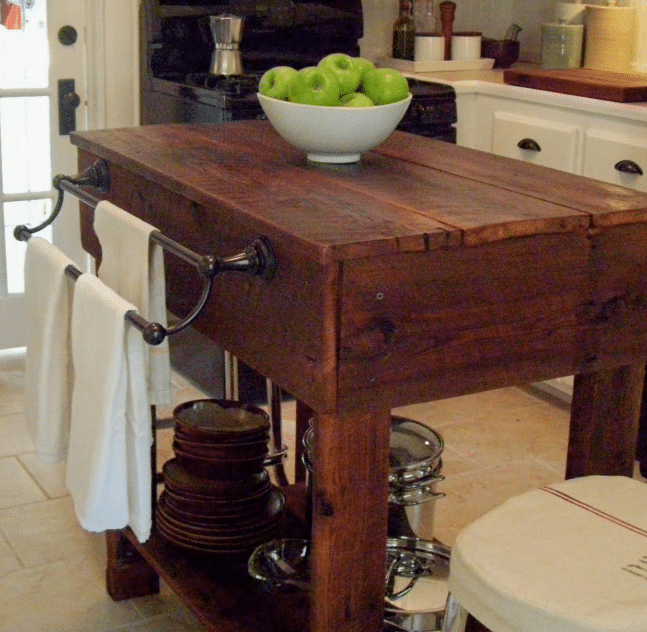 All the free kitchen island plans below have their own features so be sure to think about what you want from a kitchen island before choosing your plan. Sometimes you can modify the plan to add extra storage and you can usually tweak the design or finish to get a whole different style that's perfect for your kitchen.
Diy Kitchen Island With Seating
Wooden Pallet Kitchen Island For Less Than $50To Convert Case
Are you the kind of DIY and decor enthusiast who believes that an upcycled wooden pallet is one of the best things you can possibly use during a home project? In that case, we have a feeling you're going to get along very well indeed with the way Nothing Grace guides you step by step through the process of making your very own kitchen island out of the pallets you like so much, complete with some shelving and space for stools.
Ikea Shelf Hack Kitchen Island
Are you actually a little bit newer to the handy skills game when it comes to DIY, since you're more of a crafter, but you're determined to give your kitchen island a try? Then maybe you'd do better to make something like this IKEA shelf hack island from Jen Lou Meredith! they start with a prefabricated piece that will give you something to work from and then show you how to change and customize the original in simple ways so the finished product is an island and not a shelf.
A kitchen without an island can often feel empty and incomplete and sometimes you don't even realize it until you get to experience just how great life with a kitchen island is. It's completely ok to add an island to your kitchen even after everything else has been set up. It doesn't have to match your cabinetry and you don't even have to go out and buy a ready-made one because you can actually design your own kitchen island plans just the way you want them to be.
Diy Kitchen Island Plans
When we decided to have our Frigidaire Professional Appliances installed, we had a few things we wanted to change in our kitchen. I already shared with you how I altered our kitchen cabinet next to the stove and opened things up. I also took out some of our cabinets that were attached to the wall and built a walk around the DIY kitchen island, therefore making it much easier to move around in the kitchen.
This kitchen island is made from a surprisingly simple frame built around two stock cabinets and can be sized to fit ANY base cabinets by changing only ONE measurement. When we started our kitchen remodel, this exact island was quoted to cost just over $4,000 (not including the countertop…yikes!). We built it for under $250 using only basic tools (i.e. drill, miter saw, circular saw, etc). Building anything this large may seem daunting, but all the cuts are fairly simple. Believe it or not, the hardest part is mitering the baseboard.
In the winter we use the back door in the kitchen to enter our house, but there is never a place to take off our shoes since the door would open straight into the cabinets. Now we can fully open the door and make room for everyone. The kitchen is also the room where everyone seems to congregate, so it's nice to have a place where people can gather around and eat snacks or serve meals!
Kitchen Island Ideas Diy
Pallet Kitchen Island
If you have never visited the site 101 Pallet Ideas, then you are really missing out. They build all kinds of gorgeous functional pieces from pallets.
Pallet Kitchen Island with Pattern Top
Basically, this functional kitchen island is constructed from pallets. Yet, it also has a unique pattern top that makes it stand out.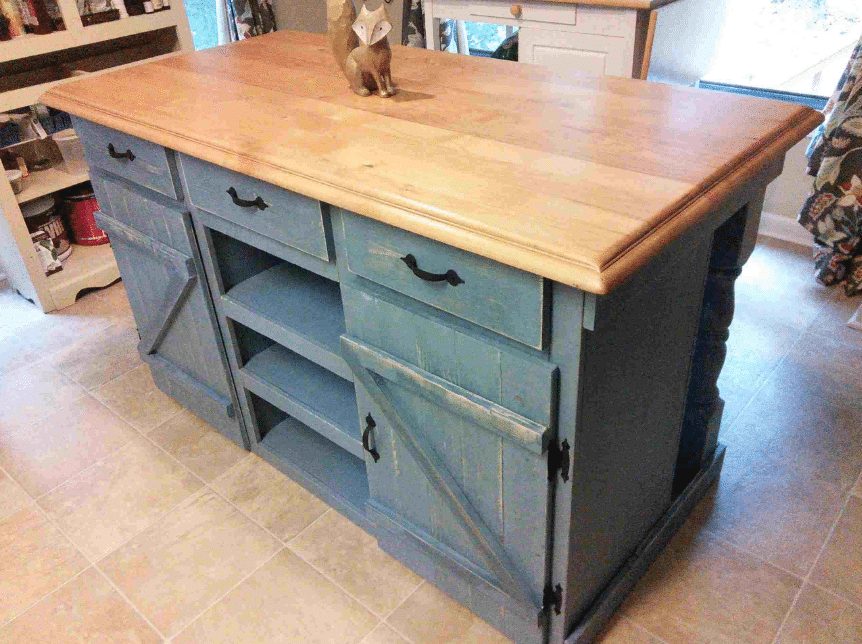 Pallet Kitchen Island
This is a gorgeous piece of work. You could use it as an island or a table. I love the drawers that are included in it as well. So if you are looking for a heavy-duty island that has multiple purposes, then you should really consider checking this design out.
Wood Pallet Island
To create this DIY island, wooden pallets were painted navy to match the kitchen cabinetry. Green stools were added to highlight the room's fun, grassy accents. The island's look is completed with a butcher-block top that parallels the wood flooring.
How Much Does It Cost To Build A Kitchen Island?
Average Cost to Build a Kitchen Island. Kitchen islands cost an average of $3,000 to $5,000. Prefab islands generally are cheaper, but they may require some assembly depending on where they're purchased. Only homeowners experienced in remodeling should consider this a DIY project.
Does A Kitchen Island Have To Be Attached To The Floor?
Some islands may not have to be attached to the floor. Smaller kitchen islands should be secured to the floor so they do not slide or tilt if someone leans or pushes against the island. If you turn a standard kitchen island base cabinet upside down, you will discover a void space about 4-inches deep.
What Type Of Wood Is Used For Kitchen Island?
Hard Maple. 1/12. While a simple, straight grain makes hard maple beautiful, its durability and resistance to abrasion qualify the wood as an ideal material for butcher block countertop installations.
Teak. 2/12.
Tigerwood. 3/12.
Black Walnut. 4/12.
Cherry. 5/12.
Zebrawood. 6/12.
Bamboo. 7/12.
Wormy Chestnut. 8/12.
Does A Kitchen Island Add Value?
Another advantage of this type of island is its price tag — about $200-600 — compared to a stationary island, which can range from $1000 up to a hefty $6000. Avoid putting in mechanicals like a gas cooktop, should you install a kitchen island. Contact a savvy contractor about the best way to upgrade your kitchen.